30.00

$
—
available on subscription
from
30.00

$
every 3 months
30.00$ — available on subscription from 30.00$ every 3 monthsSelect options
30.00

$
—
available on subscription
from
30.00

$
every 3 months
Our gentle exfoliant, with papaya enzymes and volcanic rock, efficiently removes dead skin and impurities for a more radiant and oxygenated skin thanks to its chemical and mechanical exfoliation. The combined action of papain, a fruit enzyme, and pumice, a fine volcanic rock powder, allows for a global action and promotes the renewal of the stratum corneum while leaving your skin soft and radiant. 
Did You Know?
As the body forms new cells, these cells push the dead cells out. Some will fall out on their own, while others cling to the pores of the skin and can cause pimples and other skin discomforts. 
 Benefits of Pravi Facial Exfoliant
Gently removes dead skin

Double exfoliation action

Allows cellular renewal

Allows for better absorption of products

Reveals a radiant and smooth skin

Hydrates the skin

Helps prevent and treat acne
To learn more about the benefits of regular exfoliation, check out this article.
See the ingredient description to learn more about the many benefits of this product.
**Free shipping applies to shopping carts of $35 before taxes or more. Combine this item with another product to get free shipping.
30.00$ — available on subscription from 30.00$ every 3 monthsSelect options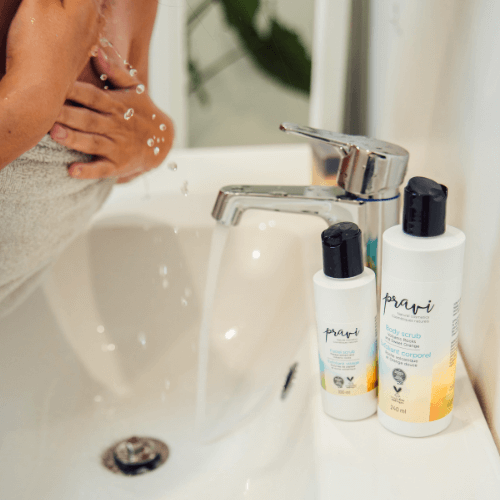 The fine volcanic rock powder in this creamy exfoliant gently removes dead skin and impurities, leaving your skin silky and hydrated. Regular use of this product will allow you to soften your skin while making it more comfortable. Its sweet scent comes from the essential oil of sweet orange, known to cleanse the skin and stimulate blood circulation. 
Benefits: 
Get rid of dead skin

 

Allows the renewal of the stratum corneum

 

Stimulates blood circulation

 

Allows better absorption of the cream

 

Moisturizes the skin

 
Consult the description of ingredients to learn more about the numerous qualities of this product. 
Get free shipping on orders of $50 or more