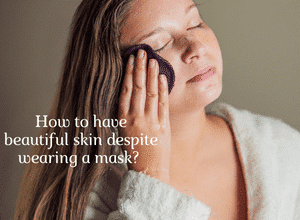 How to have beautiful skin despite wearing a mask?
Having beautiful skin every day is what we all want, right? With the mandatory mask wearing, many of us are forced to wear it for several hours a day, which has a negative impact on the appearance of the skin of the face. Some people who had beautiful skin before have seen many skin imperfections appear. For people who already have a skin problem, wearing a mask accentuates the problem. Have you had any issues on your side? 
In this article, I will go over the harmful effects of wearing a mask on the appearance of the skin of the face and I will suggest some good habits to adopt to have beautiful skin despite everything. 
Wearing a mask and beautiful skin: a constant challenge
Repeated rubbing of the mask on such a delicate area as the skin of the face can cause inconveniences. Redness, irritation, itching, pimples are among the consequences of prolonged contact with material to which the skin is not accustomed. The skin of the face needs to breathe and a good dose of hydration to maintain its beautiful appearance and balance. 
Some people with more sensitive or problem skin will thus have more difficulty in having beautiful skin despite wearing the mask: elderly people, people with fair skin, people who already suffer from eczema or acne are more prone to develop problems related to prolonged mask wearing. 
Do not panic! It is still possible to prevent damage and maintain beautiful skin. With good habits, good hygiene and good products, ideally natural cosmetics, anything is possible! 
Why wearing a mask causes skin problems?
Wearing the mask generates a higher temperature and also a lot of moisture on your facial skin. The skin will thus generate more sebum than usual and thus clog the skin pores, which can cause more pimples, blackheads and even eczema. 
This increase in temperature and the fact that the humidity comes from the mouth favors the proliferation of bacteria and their multiplication in a place where the skin is particularly vulnerable. This proliferation of bacteria can go as far as causing an acne breakout. NOOO! 
The heat felt under the mask will also modify the pH of the skin. This is usually around 5.5, the rise in temperature will make the skin more alkaline and facilitate the proliferation of bacteria responsible for pimples and other imperfections. 
Finally, who says heat says sweat therefore dehydration! The skin of the face hidden under the mask will dehydrate at high speed. Maintaining good internal and external hydration is therefore essential to remedy the situation. 
Having beautiful skin: start by adopting good habits
The choice of the right mask is first of all essential. Choosing a mask that breathes well, is free of pollutants (dark dyes) and washes off easily is important so as not to irritate the skin unnecessarily. Some materials cause allergic reactions. A surgical mask is often the best choice for sensitive skin. The important thing is to choose a mask that you are comfortable in and that does not cause a skin reaction. 
Then, drinking plenty of water will allow the skin to maintain good hydration and beautiful skin naturally. 
Since you can't see under the mask, there's no need to wear makeup. Makeup would only clog skin pores more and create more skin problems. 
On the diet side, sugar should be avoided because it maintains inflammation and stimulates the secretion of sebum. 
A care routine for beautiful skin, adapted to mask wearing
All-day intensive cleansing and hydration
If you wear the mask all day, the ideal is to clean the face 2 to 3 times during the day. Use a mild detergent soap, like facial soap, to make sure you remove oil and moisturizer buildup. A good deep clean will prevent the proliferation of bacteria that can form on the cream and the sebum that accumulates. 
Then be sure to spritz the Hydra Mist liberally for a healthy dose of hydration. The application of a daily moisturizer, depending on your skin type, light and quickly absorbed, is then ideal in order to maximize the impact of repeated cleansing. 
Once you are going to remove the mask for the rest of the day, a good gentle facial cleansing is in order. It is important to opt for a gentle cleanser with a neutral or slightly acidic pH in order to rebalance the natural pH of the skin and stop the proliferation of bacteria. 
Pravi cleansing lotion has a neutral ph of 7 and is ideal for all skin types. The gentle and natural ingredients it contains will gently cleanse while soothing the skin. 
Suzanne Bérubé, beautician and owner of the Ô Centre d'estéhique in Bois-des-Filion in Quebec, suggests that her clients apply the glowing gel mask for the night. This product, rich in active ingredients, allows the skin to regenerate, stimulates the production of collagen and gives it an emollient layer to face the next day. 
To go even further, apply the vitality serum in the morning, after your dose of Hydra mist. This ultra-hydrating serum helps firm the skin, provides a good dose of hydration, slows down the signs of aging and above all, it reduces redness on the skin. 
Gently exfoliate regularly
Miss Bérubé also offers a weekly facial exfoliation, and more frequently in case of skin problems. She also offers a variation of our exfoliation technique, very gently. 
She suggests taking advantage of the papaya enzymes contained in the facial scrub, which "eat" dead skin cells, to avoid damaging the skin unnecessarily. She applies the facial scrub on the skin, leaving it to act for 2-3 minutes. 
After rinsing, she repeats the application and rest a second time, ending with a light massage over the entire surface of the face and neck. This technique makes it possible to remove impurities and dead skin while stimulating the production of new cells. To learn all about exfoliation, check out this article. 
If your skin problems after wearing the mask are serious, we suggest you consult a skin care professional like Suzanne Bérubé, a beautician who uses Pravi natural cosmetics for facial treatments. Experts like her can help you find solutions to have beautiful skin every day without too much effort. 
No need for a mask: breathe!
For days when not wearing a mask, keep your usual routine, taking care to hydrate your skin well according to its needs. To find out about our routine suggestions according to your skin type, consult this page. 
Hoping these tips and information can help you find a good balance and above all to find beautiful healthy skin! 
You would like personalized advice on how to take care of your skin? Contact us, we will be happy to discuss your needs and your habits in order to offer you products that suit you. 
To get more tips and learn more about our company, subscribe to our newsletter and follow us on social networks! 
Catherine Bastien
Co-founder
Pravi natural cosmetics